Use the Categories or Tags filters if you would like to search for a specific event, such as our Golf Tournament, or a recurring event like AM Networking Morning Spark.
May
29
Wed
After Hours Networking and Ribbon Cutting – Canby Pioneer Chapel Performing Arts

@ Canby Pioneer Chapel Performing Arts
May 29 @ 5:00 pm – 7:00 pm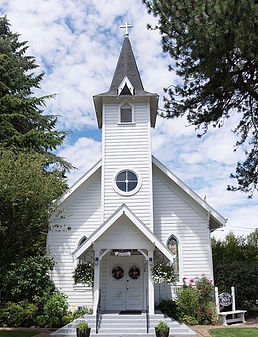 Canby Pioneer Chapel Performing Arts are growing and becoming a part of Wilsonville's emerging business community! Please help us welcome Canby Pioneer Chapel Performing Arts to the Chamber by attending their Ribbon Cutting Ceremony of their new outdoor event space!
Wine and appetizers will be served to the sounds of John Nilsen playing live on the Chapel's beautiful grand piano. The Chapel's famous tea sandwiches and desserts from Lux Sucre Desserts are not to be missed! Enjoy these treats while taking in the fresh air of the Chapel's blooming English garden.
The event starts at 5 PM and Ribbon Cutting will take place at  5:45 PM.
Following the event, Chamber guests will receive half off admission for the 8 PM performance of John Nilsen.
Raffle Prizes for this Event Include: 
Tickets (4) & Wine to Midweek Chill – $90 value
Tickets (2) & Wine to Tony Starlight (Cowboy Songs) – $90 value
Tickets (4) & Wine to John Nilsen & Swimfish | June 22nd – $100 value
Tickets (4) & wine to John Nilsen & Swimfish | July 6th – $100 value
Tickets (4) Tea basket to Afternoon Tea – $125 value
Since 1884 "The Canby Pioneer Chapel" has proudly shared a very strong heritage and history in the city of Canby Oregon. It is one of the grandest and oldest structures in the state of Oregon. This lovely white-frame building augmented by a steep 40-foot bell tower, in classic Gothic Revival Style, is now the home of Canby Pioneer Chapel Performing Arts.
The "Canby Pioneer Chapel" is a magical performing arts center that is the place for concerts, lectures, recitals, corporate events, and parties. It is a charming venue that truly captivates the heart when you walk the English garden or enjoy the glorious performing arts center.
Owner, Marilyn Nash has been an entrepreneur and supporter of small businesses her entire life. In 2016 she received the prestigious Canby Chamber of Commerce Community Choice Award for her tireless efforts in supporting the arts and beautification of the city. Her love of music and performing arts will bring to Canby the finest in entertainment and performers from the Northwest and across the country.
Parking: Ample street parking on Elm and 3rd street.  Overflow parking in the shared lot of the Church behind the Chapel.
Jun
5
Wed
WACC Morning Spark and Ribbon Cutting – EyeHealth Northwest

@ Eye Health Northwest
Jun 5 @ 7:30 am – 9:00 am
Let's celebrate new Chamber member EyeHealth Northwest with a ribbon cutting ceremony!
Wow – check out this events raffle prizes!
$100 wine basket from Week Day Wine
2 pairs of sunglasses, Maui Jim and Oakley
Eye Health NORTHWEST swag for all attendees
About EyeHealth Northwest:
At EyeHealth Northwest, our Opticians are committed to helping you get the best pair of glasses you have ever had. Opticians are Nationally Certified by the American Board of Opticianry and participate in ongoing continue education courses to deliver the best possible care with the most advanced technology and fashion. We can take the stress out of the process, making it enjoyable for you and your family.
With more than 60 years of experience in Portland, we are now driving the Portland look by designing and curating original frame collections based on our optical expertise – Bridge City Spex. We understand the importance of individuality, functionality, and quality. The Bridge City Spex Collections can be found exclusively at our eleven EyeHealth Northwest optical shops.